INTRODUCTION TO TRUJAY
Trujay is a global organization serving customers around the world. They have a superb team of specialists delivering integrations and migrations, to and from all market-leading systems.
Established in 2015 as a company that connects automation systems, Trujay quickly became experts in the industry, bringing technical savviness and extensive best practices for sales and marketing management.
Trujay acquired Data2CRM in fall 2018, and now it can enable users with the largest menu of migration services. Prominently, Trujay is partnered with famous agencies such as HubSpot, Marketo, Dell Boomi for whom they offer services to their advanced integration customers.
INTEGRATION HARD TRUTHS USING 'OUT OF THE BOX' SOLUTIONS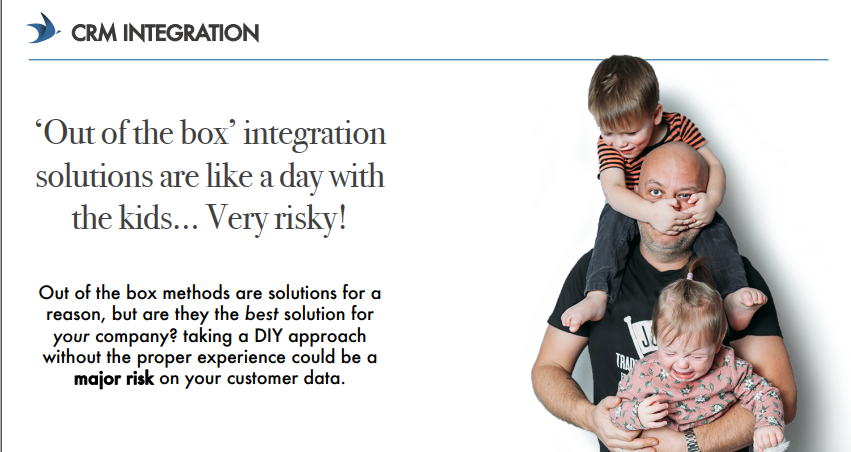 There are many advantages of connecting a system or platform to your CRM. Platforms allow you to connect multiple enterprise-systems to accelerate your business operations.
If you are still thinking of using an 'out of the box' CRM integration tool, you should be alert that tons of procedure stages are waiting ahead, such as planning, support, maintenance, time and cost.
For your further enquiry, the below reference is created to help you plan for your upcoming integration.
1. Time is money
When you are not an expert in CRM integration, how long do you think it's going to take? You could spend hours, days or even weeks trying to connect your CRM with other platforms.
2. Not always meeting your requirements
Most 'out-of-the-box' or 'off-the-shelf' CRM integration solutions have a limited set of capabilities and rarely bring optimal results.
You also have to consider if your solution will support you through any CRM changes or if you want to connect other (non-supported) platforms.
3. Loss of crucial business data
Have you ever thought of the chance that your important data might disappear unintentionally? To secure your data and records, it is necessary to ensure you have a robust and clear recovery plan if you do suffer from any loss of data and records.
4. Does your solution allow integrations with multiple platforms?
If not, it would be time and money-consuming. Prepare to pay more money and spend more time learning about this new platform.
5. Ensure you have enough support
One downside of 'Out-of-the-box' CRM integration solutions is limited support. As a result, your normal business operations may be interrupted by doing the integration during working hours.
6. Lack support from your CRM provider
CRM providers don't have a good command of the software you're trying to connect to. You'll be on your own if you have issues.
7. Do you know how your solution works?
In case unexpected data changes occur, what can you do? To have confidence in data produced by your integration, you will need to understand the integration logic.
8. Will your CRM solution grow with you?
Many CRM integration solutions offer limited integration options and may not cover future requirements.
9. Further support
As you may know, Your CRM integration is just the first step. After this, who will be in charge of updating your CRM, updating your connected software, training, troubleshooting, syncing and reporting.
Overall, "out of the box" methods can be a fine solution; nevertheless, you should be prepared to deal with inevitable chaos when using this.
TRUJAY CRM INTEGRATION BENEFITS
Handling with all your problems, Trujay integrations connect your CRM with powerful platforms with ease.
Besides, you can truly put your faith in Trujay for their partnership with trusted agencies.
✔Get your own Account Manager: Your account manager will oversee your entire integration
✔FREE Consultation with a CRM Specialist: Speak to a CRM specialist about your integration before starting
✔Dedicated CRM Integration Specialist: A CRM integration specialist will complete your integration
✔Their secure software has you covered: They backup your data and restore this themselves when required
✔1,000+ integrations & migrations completed: With so much experience, they can troubleshoot any problem
✔They support over 30 CRM's: They are partnered with and recommended by most CRM's
CASE STUDIES: INSPECTION
1. The Ranch data integration (ResortSuite to HubSpot CRM)
Company background and use case
Opened in June 1940, Rancho La Puerta (the Ranch), the first destination spa, has become a favorite location for its many repeat guests. Improving their relationships with guests is made possible thanks to using HubSpot's marketing automation and CRM solution.
To fix common errors attached to manual data entry and allow resort staff to focus on more productive activities, the Ranch strived for automating the movement of contact data from ResortSuite to HubSpot. The Ranch's HubSpot Customer Success Manager made introductions to Trujay for the project.
Result
After successful project completion, Rancho La Puerta uses IntegrateHQ iPaaS (integration Platform as a Service) to cleanse, map and write contact data to HubSpot.
Catherine Hesik (Director at Rancho La Puerta) said: "Knowing how many times a guest has visited the Ranch, the frequency of their stay or if it's a recurring annual event that brings them to our resort has drastically changed our interactions and builds relationships with our guests".
2. iFLY data migration (Salesforce to HubSpot CRM)
Company background and use case
iFLY is an experiential entertainment company that created modern indoor skydiving. They make the dream of flight a reality by giving their customers "wings" in a safe and reliable environment.
With the growing number of offices and sales teams, they were seeking a more intriguing CRM to keep their teams more active in the pipeline and they had purchased 100 seats of Hubspot Sales Pro. Trujay was reached out to assist with the data migration and implementation.
Result
Trujay group suggested a calculated data transfer with the dataset in full and would proceed with a delta migration to take place when all team were using HubSpot CRM. And they succeeded by following the recommendation. Wes Morgan (Director of Nation Sales) appreciated Trujay team's attention to detail and support through the migration.
In conclusion, with their customer-first focus and brilliant strategies, Trujay are doing their utmost to ensure the clients are happy with their service and able to access the full potential of your data migration or integration.